News
03 Jun 2016
Kryptoradio project ended in December, 2014 but the project is not entirely forgotten in the last year and a half. The project raised huge audience and there has been some serious commercial interest but nothing I am really interested in because they would destroy the original idea of Kryptoradio – distributing the Bitcoin ledger autonomously without Internet connectivity.
I want to thank all our supporters out there. Many of you really wanted this to happen globally. We were doing this mostly because of interest to the technology. The Bitcoin economy back then and even today is far too small to keep this running just on donations. On the other hand, putting in any subscription model would severely hurt the anonymity aspect of blockchain broadcasting. Therefore I lost interest to the project in beginning of 2015.
Since then I have worked with Bitcoin technology in Prasos Ltd. located in Jyväskylä, Finland. We have done great things such as Denarium physical bitcoins and an exchange service with a volume of one million euros per month. I believe the Bitcoin economy is still on this phase where bitcoins are for traders and collectors, although I see growing interest in peer-to-peer market such as OpenBazaar. If Bitcoin economy goes that way, removing the unnecessary middlemen from our economy, that would pave the road for Kryptoradio and other alternative ways for transferring financial transactions.
Also, I have become a licensed radio amateur last April. My call sign is OH6EYA. There may be some common ground between peer-to-peer cash and amateur radio. We'll see what it is in the future.
Feel free to follow me at Twitter. I sometimes tweet in Finnish but hope it's not too bad. @Zouppen
18 Nov 2014
Koodilehto has made an agreement with Digita for transmitting Kryptoradio to the end of year 2014. We continue broadcasting in multiplex E which covers 95% of Finnish population.
Joel has been busy with his other job which has kept the project a bit silent for some weeks. Meanwhile we have had some problems with our RS232 hardware which was fortunately fixed without replacing any hardware. Kryptoradio broadcast is up again after a downtime.
Our co-operation with Krypto Fin ry has ended. This means that the cryptocurrency FIMKRYPTO is no longer transmitted. The deal was originally for two months so nothing dramatical here. Now there is some spare bandwidth for transmitting data, including other cryptocurrencies. Please contact us if you want your data on air!
Also, Koodilehto is attending to the Slush14 startup event going on in Helsinki, Finland. If you want to talk with us there, just drop an email or tweet to @Koodilehto.
27 Oct 2014
I'm here to report some slight delays in Kryptoradio project. But we are alive and it is probable that we'll continue broadcasting for two more months, till the end of 2014!
Brief changelog of what has happened in this month:
New protocol version is in development. Most important feature is the support of ECDSA signing.
QSL verification messages are being broadcasted. All personal insults in the data are purely random. We are starting QSL campaign right after the new protocol version is finished.
IRC channel #bitcoinradio @ FreeNode is being broadcasted!
To do:
Release of more robust receiver which should be easier to compile and use, as well.
Bitcoin data source rewrite. This will hopefully finish in early November.
More information will come later this week. Stay tuned, literally! ;-)
09 Oct 2014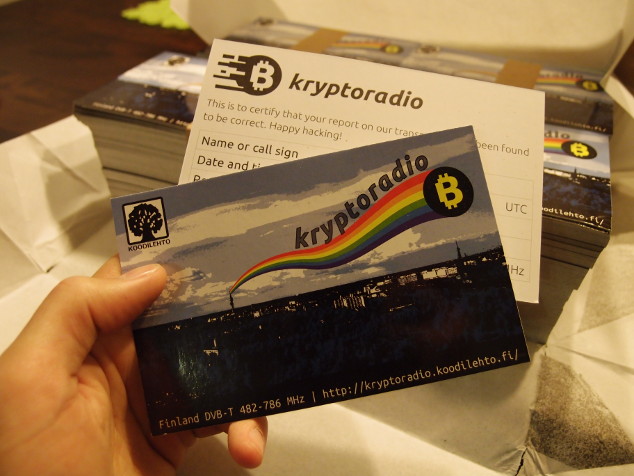 Today, Joel's got a package from LZ3HI. QSL cards. Thousand of them. So be prepared, in a week we are introducing QSL campaign for everybody around. We prefer reception reports of real DVB-T broadcast but due to huge number of cards available, we accept also reports of successful setups of listening to our brand new Internet gateway. :-)
For those not familiar with QSL cards: It is a written confirmation of either a two-way radiocommunication between two amateur radio stations, or as in our case a one-way reception of a signal from a broadcasting station. During the early days of radio broadcasting, the ability for a radio set to receive distant signals was a source of pride for many consumers and hobbyists. (Source: Wikipedia). Because we are also doing history with Kryptoradio project, and we like to share you a remembrance item of the first months of this project.
So, keep your receivers at hand or go buy a one if you live near the broadcast. We are looking forward of listening reports not only from Finland but especially from borderlands of Sweden, Estonia, and Russia! It's tough job to receive the signal outside of the official coverage area, but take that as a challenge!
Version 0.0.2 of the receiver software will be available soon, too. Stay in touch!
01 Oct 2014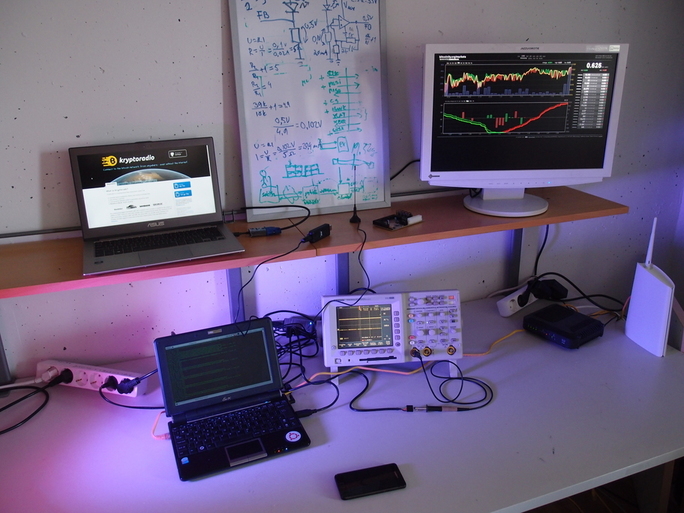 Kryptoradio receiver software is out. Everything is still very experimental so be prepared. Installation instructions are available on Github. There is also an experimental package for Ubuntu.
As always, please report problems to the issue tracker or join our IRC channel #bitcoinradio at Freenode.