News
18 Nov 2014
Koodilehto has made an agreement with Digita for transmitting Kryptoradio to the end of year 2014. We continue broadcasting in multiplex E which covers 95% of Finnish population.
Joel has been busy with his other job which has kept the project a bit silent for some weeks. Meanwhile we have had some problems with our RS232 hardware which was fortunately fixed without replacing any hardware. Kryptoradio broadcast is up again after a downtime.
Our co-operation with Krypto Fin ry has ended. This means that the cryptocurrency FIMKRYPTO is no longer transmitted. The deal was originally for two months so nothing dramatical here. Now there is some spare bandwidth for transmitting data, including other cryptocurrencies. Please contact us if you want your data on air!
Also, Koodilehto is attending to the Slush14 startup event going on in Helsinki, Finland. If you want to talk with us there, just drop an email or tweet to @Koodilehto.
27 Oct 2014
I'm here to report some slight delays in Kryptoradio project. But we are alive and it is probable that we'll continue broadcasting for two more months, till the end of 2014!
Brief changelog of what has happened in this month:
New protocol version is in development. Most important feature is the support of ECDSA signing.
QSL verification messages are being broadcasted. All personal insults in the data are purely random. We are starting QSL campaign right after the new protocol version is finished.
IRC channel #bitcoinradio @ FreeNode is being broadcasted!
To do:
Release of more robust receiver which should be easier to compile and use, as well.
Bitcoin data source rewrite. This will hopefully finish in early November.
More information will come later this week. Stay tuned, literally! ;-)
09 Oct 2014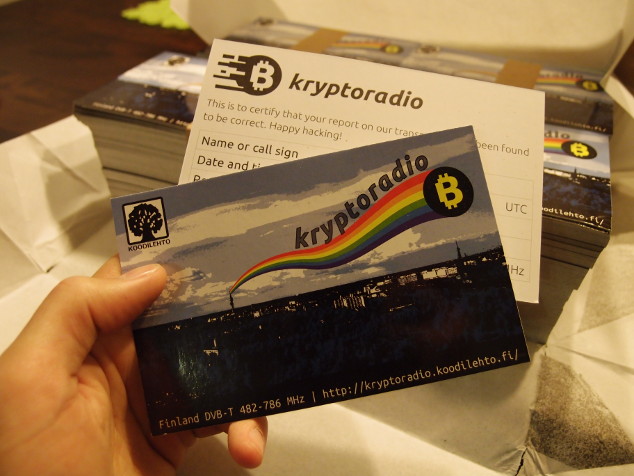 Today, Joel's got a package from LZ3HI. QSL cards. Thousand of them. So be prepared, in a week we are introducing QSL campaign for everybody around. We prefer reception reports of real DVB-T broadcast but due to huge number of cards available, we accept also reports of successful setups of listening to our brand new Internet gateway. :-)
For those not familiar with QSL cards: It is a written confirmation of either a two-way radiocommunication between two amateur radio stations, or as in our case a one-way reception of a signal from a broadcasting station. During the early days of radio broadcasting, the ability for a radio set to receive distant signals was a source of pride for many consumers and hobbyists. (Source: Wikipedia). Because we are also doing history with Kryptoradio project, and we like to share you a remembrance item of the first months of this project.
So, keep your receivers at hand or go buy a one if you live near the broadcast. We are looking forward of listening reports not only from Finland but especially from borderlands of Sweden, Estonia, and Russia! It's tough job to receive the signal outside of the official coverage area, but take that as a challenge!
Version 0.0.2 of the receiver software will be available soon, too. Stay in touch!
01 Oct 2014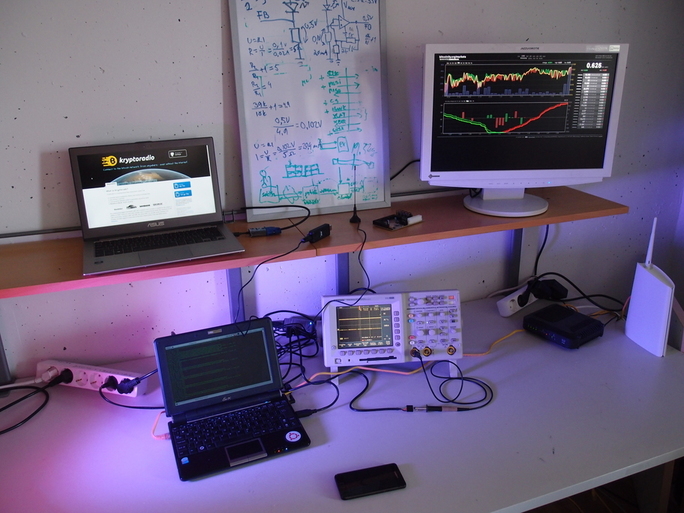 Kryptoradio receiver software is out. Everything is still very experimental so be prepared. Installation instructions are available on Github. There is also an experimental package for Ubuntu.
As always, please report problems to the issue tracker or join our IRC channel #bitcoinradio at Freenode.
02 Sep 2014
Kryptoradio, developed by Koodilehto, will begin sending Bitcoin transactions through the national TV network on 1 September 2014. During the pilot broadcast, 90 of Digita's TV broadcasting stations will transmit simultaneously, which will be receivable in the whole of Finland, excluding the northernmost Lapland and Aland. The pilot broadcast is used to evaluate the suitability of digital television network for transmitting payment data and to enable application development. The pilot broadcast lasts till the end of October.
Broadcast data will include Bitcoin transactions, blocks and exchange rates with regards to the most common currencies. These data enable the reception and monitoring of Bitcoin payments without an Internet connection, which enhances the reliability of payment confirmation. In addition to Bitcoins, Kryptoradio will transmit the Finnish FIMK cryptocurrency.
During the pilot broadcast, anyone can develop applications that use Kryptoradio. To promote this opportunity, Helsinki Hacklab is arranging with Koodilehto a Kryptoradio developers' meeting at Helsingin Kaupunkivertas in Helsinki, Finland, on Sunday 7 September 2014, beginning at 10 o'clock. The purpose of the event is to introduce Kryptoradio and promote the development of devices and applications that use it.
"It's interesting and exciting to participate in opening up new possibilities. The terrestrial TV network is viable and it's great to learn that it can be used in a multitude of ways. In Digita, we're boldly exploring the possibilities and so this is a great opportunity to advance our competences together with Koodilehto," asserts Markus Ala-Hautala, Director of Business and Service Management at Digita.
Koodilehto is a Finnish software company that combines open technologies for the benefit of its clients. Krypto FIN ry has developed the FIMK system and aims to advance its use. Digita operates wireless communication networks, governing the terrestrial radio and TV networks' broadcasting stations and masts. Helsinki Hacklab ry aims to develop and advance the scientific, technological, artistic and crafts skills of its members and its neighborhood.
Contact information
Joel Lehtonen, Koodilehto, Tel. +358 40 685 1884, joel.lehtonen@koodilehto.fi
Markus Ala-Hautala, Director, Business and Service Management, Digita Networks, Tel. +358 400 549 023, markus.ala-hautala@digita.fi
Project website: http://kryptoradio.koodilehto.fi/